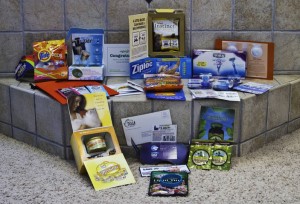 Here is some of the awesome stuff that I've received in my snail mail box over the last 2 weeks.
When I enter, I share on my Miz Couponista Facebook  page. If you want in on the action like one of those pages. 🙂
The picture isn't that great so I wont go into detail. I got a Schick razor for him and one for her. Several cat food samples, a pack of Tuna, a box of Ziploc baggies, more Tide Pods (I'll never run out of these at this rate!), Brew over ice coffee, hair care products, face creams, and coffee.