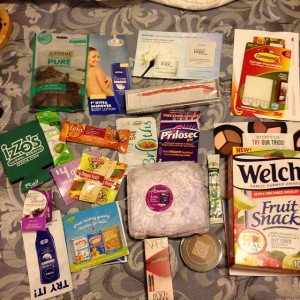 I got quite a lot and would have more to post but my family tore into some of them LOL
two of my favorite thinks are near the bottle.
My Nars freebie from Sephora for my birthday and my Ulta quad eyeshadow, also free for my birthday. 🙂
The Welches were a facebook conests and as well as most other items.
it was a pretty good month. What did you get? I'd love to see pictures. Post them here or on my Facebook page https://www.facebook.com/MizCouponista
See you next month for more Snail Mail freebies!
MizD