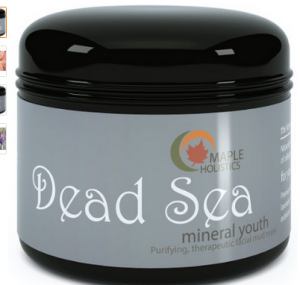 This is a review for Maple Holistics Dead Sea Mask. It can be used my Women, men and teens.
Enriched with Organic Mineral Youth Formula to Balance Oily Skin, Remove Acne, Wrinkles & Exfoliate – Anti Aging Facial Cleanser Heals Oily Skin, Psoriasis, Minimizes Pores, Cleansing & Detoxifying Scrub.
I got a 9oz tub.
I got this picture off Amazon because I lost the one I took on my camera.
The mask is creamy mud that contains Dead sea mud (from Israel), Almond essential oil, Organic Clary sage, Organic Lavender, Organic German chamomile, Biodynes EMPP and Pseudocollagen. I was worried at first (just scanned ingredients) that it would burn like most masks. I have sensitive skin and didn't want to end up with a red blotchy face.
I was impressed with how cooling it was and how easy it was to spread on my face. It didn't take a while lot either. I left it on for probably 20 minutes. I was reading and forgot it was on! Most masks leave me running to the sink in 5 minutes frantically scrubbing them off!
When I went to rinse it off, that's just what I did, rinse it off. I didn't have to vigorously scrub it off. My face wasn't read or blotchy and felt SUPER soft and clean.
My only complaint is I that I had a slight break out on my jaw line. I wasn't surprised though. Most products break me out BIG TIME.  I used some toner and my morning it was gone.
Bottom line: I LOVE this mask and now use it twice a week. The breakouts have ceased and my skin looks great. I will be purchasing it again!
**I got this free for review purposes, but all opinions are 100% my own