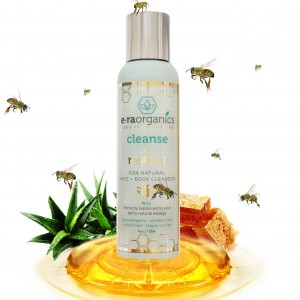 I'm always on the hunt for a cleansing system for sensitive skin. I came across this face & body wash by Era Organics. It's formulated for sensitive skin and is also recommended for people who deal with PSORIASIS, ECZEMA, DERMATITIS, ACNE and more without causing pain or irritation. Another reason I opted to try this is because they do not test on animals. 🙂
This cleanser contains aloe vera and manuka honey. I'm starting to see more and more products with this honey. As with other products I've tried with manuka honey, I'm not too fond of the smell. It's not bad, i just don't care for it.
Other ingredients are:
Organic Aloe Barbadensis Gel, Cocamidalpropyl Betaine, Glycerine (vegetable derived), Polysorbate 80, Leptospermum Scoparium (Manuka Honey), Tocopheryl Acetate, Centipeda Cunninghamii (Cehami), Gluconolactone, Sodium Benzoate, Sodium Hyaluronate, Tapioca Starch, Cellulose Gum, Xanthan Gum, Mica, Titanium Dioxide, Iron Oxide
I used this cleanser on my face only for 5 days. Aside from the smell I was impressed.The smell, I can't explain it. It's not unpleasant. It's just not to my liking. A super strong honey scent maybe?
It rinsed clean, no residue and my face felt super clean. It didn't dry out. I didn't feel I need to rush and put on my moisturizer. Up to a few days after I stopped using it, my skin remained clear and felt good. I plan on trying moisturizer from this brand so I'm hoping that by combining the two I'll have amazing skin!
I received the product mentioned above for free. Regardless, I only recommend products or services I use personally and believe will be good for my readers. Miz D