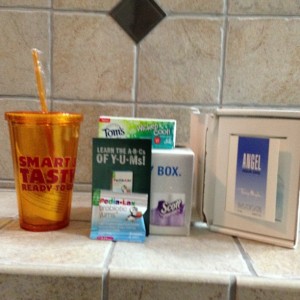 My mail carrier has been busy! 🙂
Jimmy Dean water bottle ~ FB contest
Pedia-lax probiotic yums ~ Target
Tom's Of Maine Toothpaste ~ Target
Scott roll of tissue. ???
Thierry Muglar Angel Aqua Chic perfume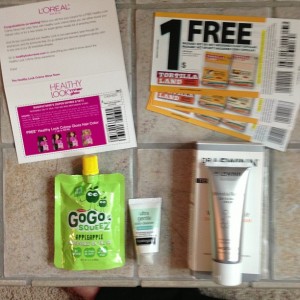 L'Oreal Coupon for FREE box of hair dye ~ FB contest
Tortilla Land FREE package of tortillas + 2 $1 off coupons ~ FB Contest
GoGo Squeeze applesauce ~ Swaggable
Neutrogena Ultra Gentle Cleanser ~ FB
Dr. Lawinn by Kinerase Wrinkle Repair FULL SIZE ~ FB Contest
(Not shown) Band Aid bandaids, How to Train Your Dragon DVD shorts, & Kate Spade perfume sample
What have you received lately?