While I'm pimping out products I MUST mention Honeycat Cosmetics. I found out about them on a Facebook Group. Being a cat lover I had to check them out. I'm so glad I did. I am so in love! Here is what I got!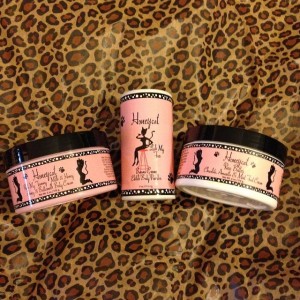 Rub My Tummy Hand & Body Cream  ($12)
What gal doesn't like to have her tummy rubbed? I know I sure do. Have I got a cream for you! This stuff is chock-full-of skin softening ingredients like, Shea Butter, Kukui Oil, Honey, and of course Butter Milk. No silly, it's not just for tummies, it's for anywhere youu want to feel soft, and smooth…Hey, you never know when youu're gonna get rubbed!
Lick My Fur Banana Cream Eatible Body Powder MEOW! (Bonus not sold on site)
Paw Batter Foot Cream ($12)
"Hey there chicks! Honeycat has a brand new beat to soften up those feet. We whipped up a delicious chocolate, amaretto, and mint desert cream to treat dry, tired feet. Paw Batter! An outrageous blend of shea butter, coco butter, sweet almond oil, vitamin E, buttermilk…oh, lots of good-for-your-feet treats. Perfect for after bath or pedicure. Your dogs will be purring in no time. "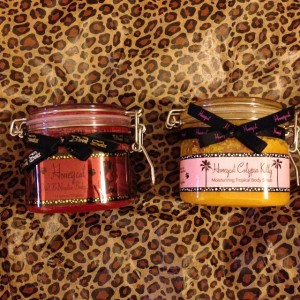 Don't Be Negative Body Scrub ($20)
Calling all Vampire lovers! Come on now, "Don't B-Negative", strawberry brulee body scrub! This stuff is fang-tastic! Sun ripened, succulent sweet strawberries and cream, yummy! Add to the mix, Watermelon seed oil, Strawberry seed oil, and organic freeze dried strawberry seeds (for added exfoliation), and you've got a recipe for a super soft coat…
Oops! I mean super soft skin! This scrub is seriously to die for!
Calypso Kitty Pineapple Body Scrub ($20)
~Pineapple, mango and papaya brings the scent of the tropics to your bath and shower. Infused with rice bran oil (moisturizing natural antioxidant), carrot oil (rich in vitamins A & E and helps heal dry skin) and real shredded coconut for added gentle exfoliation. Your skin will be positively purring!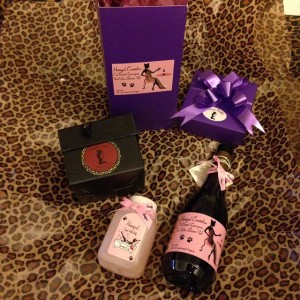 (in the box a HUGE) HEME-DREAM Pomegranate Sparkling Bath Fizzy ($12)
Honeycat's got some new fare for Vampire lovers everywhere!  Tired of boringold bath bombs? Well sink your teeth into this extra rich, pomegranate and cassis bath fizzy!  Heme-Dream! Hemoglobin never smelled this good! Red, the favorite color of Vamps everywhere, with just a touch of red body glitter. You'll be so soft and smooth. I'm telling you girls, this product really…SUCKS!
CatBernet Sauvignon Red Wine scented shower gel  ($16)
Red wine shower gel? You bet! The aroma of sun ripened grapes, fermented to purrrfection, a little fruity, and loaded with antioxidants!Lather up ladies cause this is a goody! The good part? No hangover. A little goes a long way, and you're gonna love the way you feel.
Sweet Potato Pie Bubble Stuff  ($10)
Not your grandmother's sweet potato pie. 
This extra rich, super bubbly, Sweet Potato Pie scented, bubble bath is loaded with aloe, shea butter and macadamia nut oil. A purrfect recipe happy skin.
The last picture is stuff I got as a bonus because several of my items were back ordered. I LOVE this company, their products and their fabulous customer service. I will be ordering more from them over and over!
I paid for this and all opinions are mine. MizD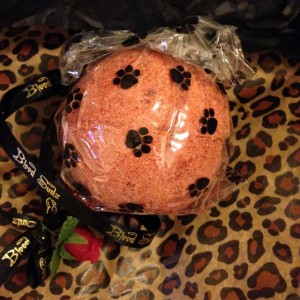 HEME-DREAM Pomegranate Sparkling Bath Fizzy